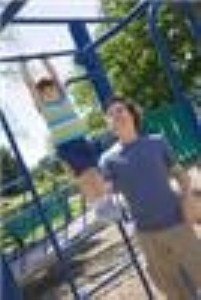 More fathers should be devoting their parenting skills to enjoying some good, old-fashioned playtime with their kids, a new survey suggests.
A survey commissioned by toy company HearthSong found that 99 percent of parents with a child aged 12 or under believe play is essential for youngsters.
However, 62 percent admitted they actively play with their kids for six or less hours per week, while 16 percent of this group spends less than one hour each week playing their child.
The findings have prompted the firm to give moms and dads some parenting advice – get involved!
"Play at any stage of a child's development helps instill a sense of accomplishment, delight and both intellectual and social growth," commented Beverly Fries, an educational play expert at HearthSong.
She recommended that parents "praise and encourage" kids during these period, to help "instill strong and enduring bonds."
Many types of play can help kids' physical health as well. The U.S. Department of Health and Human Services recommends that children get at least 60 minutes of physical activity per day.