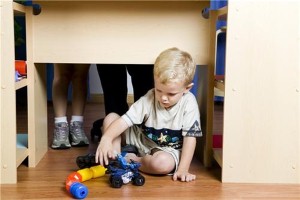 Toy companies and retailers have begun their big push: print and television ads as well as in-store displays buzzing about this year's hot holiday toys. How do you know which toys are best for your kids? And, how can you ensure their toys are safe? There are a few parenting advice tips to make your holiday gift-giving easier.
There's no doubt any father can be overwhelmed by all the toys available in the marketplace. Do some homework before heading out to shop so you know what you're looking for and you don't overbuy.
Toy award lists offer a great way for dads to see which toys are kid-tested and parent-approved. Some of the most popular are The Oppenheim Toy Portfolio, The Toy Industry Association's Toy of the Year, Parents' Choice Toy Awards and the Family Fun Top Toy Awards. In addition, many on-line retailers, like Toys R' Us, Amazon.com and Target, let you search for toys based on your child's gender, age and interests.
Making sure the toys your children receive are safe is also important. Keep in mind that doctors recommend you avoid toys that shoot projectiles, have parts that fly off or can be shattered into sharp pieces, especially for young children.
The Consumer Product Safety Commission (CPSC) has an on-line, updated list of recalled toys that could be dangerous. You can also sign up to receive email alerts when new items are recalled.
The CPSC reports that more than 230,000 toy-related injuries are treated at U.S. emergency rooms annually. Make sure you show your children how to use their toys correctly and throw broken toys away promptly.