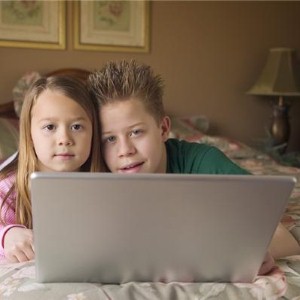 The numerous software products on the market that promise safe surfing for kids are no substitute for strong parenting skills, an expert has cautioned.
Talking with your child about how they use the internet is preferable to relying on a particular application to block unsuitable material, according to the executive director of the Center for Safe and Responsible Internet Use.
Nancy Willard told MSNBC.com that the best parenting advice involves keeping children in so-called "fenced play yards" while online – in other words, monitoring and limiting their activity.
"The idea of protecting younger children by limiting their online activities to fenced play yards is totally consistent with how competent parents raise their children," she explained.
Kids of this age are not at a level of cognitive development that allows them to make good choices on their own, Willard said.
At the same time, she warned fathers and mothers against buying into the "position of fear" from which many software companies sell their products.
A total of 59 percent of parents told Pew Research that the internet is a positive force in their child's life when polled in 2006.