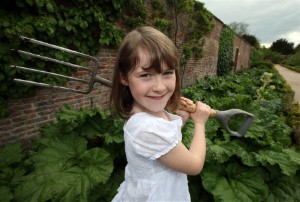 A new study suggests some parenting advice solutions to solve an age-old dilemma: getting your kids to eat their veggies.
The report, published in the journal Nutrition & Dietetics has found that watching Popeye cartoons, having tasting parties and participating in cooking classes may help kids increase their vegetable intake.
"We got the children planting vegetable seeds, taking part in fruit and vegetable tasting parties, cooking vegetable soup, and watching Popeye cartoons," said lead researcher Chutima Sirikulchayanonta. "We also sent letters to parents with tips on encouraging their kids to eat fruit and vegetables, and teachers sat with children at lunch to role model healthy eating."
Researchers say that, over the eight week study period, the kids who participated doubled their vegetable intake, as well as the types of vegetables they consumed.
Experts say children between 2 and 6 years old should eat three servings of vegetables each day, and older kids need between three and five servings.
Findings have shown that the eating patterns picked up in early childhood continue into later childhood and adulthood. Researchers involved with the study say that focusing on healthy food choices at an early age can have a major impact on the future health of adults.