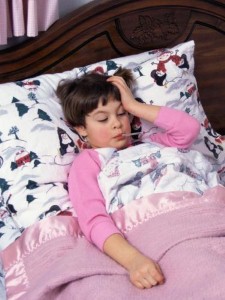 Sniffling, sneezing, aching body, fever – no father is happy when his child is suffering these cold and flu symptoms, but questions remain about giving kids medications to ease their aches and pains.
Some health experts are calling for the Food and Drug Administration to ban the sale of cold medicines aimed at kids six and under, due to worries about dosage and effectiveness.
Speaking before the FDA on Thursday, Mimi Johnson, a health policy associate at the National Consumers League, suggested that "it is too easy to administer too much or not enough" when giving kids medicines.
Meanwhile, Dr Wayne Snodgrass claimed that the drugs "have not been proven to be effective" and also carry "clear risks."
Last year, the FDA told consumers that they should not administer cold medicines to kids under two because they could suffer serious side effects from decongestants and antihistamines.
However, the administration has raised concerns about unintended consequences of further limitations. For example, moms and dads who find their parenting skills challenged by their child's illness may be tempted to offer them adult versions of common cold remedies.
Dr John Jenkins of the FDA said the best parenting advice is to read the label carefully, be careful about dosage and keep medications out of children's reach.