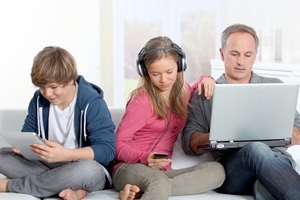 If you're dealing with the inevitability of your daughter's first date on Valentine's Day, take comfort in knowing you're not alone. Fatherhood has dealt with the challenge of dating for years, and, thankfully, dads have an abundance of knowledge to pass down on the matter.
It can be stressful for the both of you, so take a look at these tips and figure out a way to ease the process for everyone involved.
Talk safety
It's natural to be a little terrified at the prospect of your princess running off into the night with a boy you don't know. Indeed, your daughter is probably just as nervous as you are. Take some time before the big night to sit down and go over some safety tips with her. Nothing to scare her off, but enough to cover likely scenarios such as underage drinking or pressures to have sex.
Ask about the boy
In fatherhood, you're naturally going to protect your daughter because you know how boys and men think. If you have any discomfort about her date, politely ask her to describe him to you. But don't sit her down and interrogate her about every aspect of the guy's life. A few simple questions can go a long way to easing your mind.
Remember: communication is the key to trust. An open discussion can make the difference in both of your nights.