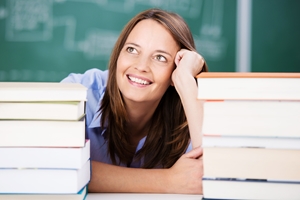 During fatherhood, your daughter will move through an abundance of teachers as she gets older. At times, you may find yourself developing a physical attraction to her educator.
The feelings you have may freak you out, but you need to understand that they're perfectly normal. Take a look at why it's OK to be attracted to your daughter's first grade teacher.
Mother figure
Your daughter is important to you and you only want the best for her. Being so young, she might start to view her teacher as some kind of mother figure and talk about how amazing she is to you. Because of this, you may feel attracted to the teacher on an emotional level.
Natural feeling
Much like schoolyard crushes from your adolescence, being attracted to your daughter's teacher is a natural reaction. She's with your child every day and always has glowing reviews of her performance. But you should only treat it as simple puppy love, not full-blown romance.
Because it's natural to develop an attraction, don't freak out if it happens to you. It's completely normal, so long as you don't act on any urges or impulses and wind up in the doghouse with your wife. It would certainly make sitting down for parent-teacher conferences considerably awkward!