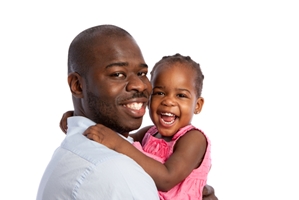 As a man new to fatherhood, you can get lost in the sea of gifts for your baby. Here are some fun items you can pick up for you and your kid.
Manly diaper bag
You don't want to get caught out in public with a pink bag covered in flowers and ponies when your kid needs a new diaper. Instead, go out and buy yourself a manly bag for carrying and changing diapers. You'll be able to store wipes, powder, diapers and other essentials for on-the-go changing.
A kid carrier
It can be exhausting to hold your kid all day, especially if it's for long periods of time while shopping or at family gatherings. For the days when you're feeling wiped out, use a kid backpack to take the weight off your arms. Most of them are easy to zip up and can also be used on hiking trips.
Portable high chair
Whether you're eating at home or at a restaurant, a high chair that easily clamps to a tabletop can be super helpful when it comes to dinner time for your child. It can collapse easily for travel outside of the house and lets your son or daughter feel like a part of dinner.