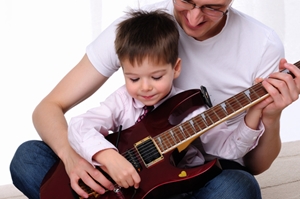 The year is drawing to a close and New Year's is coming. Some people make resolutions based on health, while others focus on financial stability. If they can better themselves in 2014, why can't dads? Here are some fun tips to make yourself a better dad next year.
Be big, be small
All fathers struggle with the dichotomy of parent-child relationships. Fatherhood is a challenge that evolves every day. One way to improve upon yourself as a dad is to learn when to be involved with your kids and when to take a back seat.
On one hand, you want to be there for your kids whenever they need you, to answer all of their questions. The role of the patriarch is convoluted, twisting down many different paths of influence. Your kids may even expect some kind of infinite paternal wisdom from you. Make sure that when they turn to you in times of need, you are ready to help in any way you can.
On the other hand, you do not want to be so involved that you become invasive. Eventually, you have to let your kids decide things for themselves and find their own answers to hard questions. A few days a week, try to step back from your kids' problems and let them feel out their own path.
Come home more often
Everyone knows it's hard out there right now. You need to make a living to support your family, which can call for long hours and weekend trips to the office. Yet it's important  that you make a conscious effort to disconnect your computer, shut down your phone and ignore all work-related emails when it comes to family.
Dads need to understand that while work is long-lasting, it's still only temporary. Your family is there for your entire life. As such, nothing is more important than them.
Be a teacher
You don't need a master's or doctorate degree to teach your kids important lessons. But be compromising and more lenient with your kids. Rules are necessary for keeping your kids safe and healthy, but they shouldn't be completely restricting. Teach them right from wrong and watch them go on to be role models for their peers. By demonstrating honesty and humility, you will guide them to a respectful and mature life.
A final thought for dads: it's their life. Understand that your children are individuals and will probably be very different than you were as a kid. Help them down their paths, but don't insist on which forks to take.
Follow these simple tips and you'll be Father of the Year candidate in 2014!