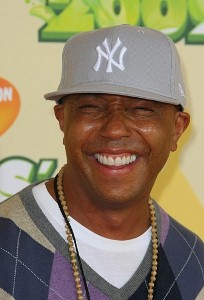 Russell Simmons, the music industry entrepreneur who started the label Def Jam, admitted recently to OK magazine that he's still learning a lot about life, thanks to his two daughters.
Simmons shares custody of 9-year-old Ming Lee and 6-and-a-half-year-old Aoki Lee with his ex-wife and fashion designer Kimora Lee Simmons, and told the news provider that he's determined to raise "very cultured" daughters.
So far, Ming has practiced yoga, plays the piano and is currently studying French and Italian, as well as traveling the world to visit places such as Africa and Paris.
However, the 52-year-old businessman said that he finds fatherhood to be the greatest joy when he's watching his girls navigate through the world and relaying their new-found knowledge to Simmons.
"The way young people think, you want to think like them so they teach you a lot," Simmons told the magazine. "Having a child teaches you so much. That really is the best part of being a dad. You remember what's important in life."
Recently, Simmons said he offered Ming the chance to meet "one of the celebrities who runs around," but turned her father down because, according to Ming, the star "makes bad choices."