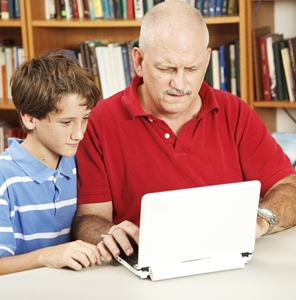 It can be hard for a father to pull his kids away from the computer these days. It seems like they're all glued to their devices. But you can take some steps to manage their Internet usage so they don't waste away in front of the screen.
Move the computer
Don't let your kids keep their laptops or tablets in their rooms. Make it a rule that all Internet usage has to happen in the living room or another common area. You can have a little control over what they look at and do if it's within your line of sight.
Set parental controls
Many Internet browsers actually have parental controls that you can access and set. These settings allow you to regulate what kind of websites can be viewed depending on the content. You can also purchase software that limits time online and schedules what time of day the Internet can be used.
Talk to them
Sometimes the best form of control is communication. Sit down with your kids and talk to them about both the good and bad things on the Internet. The more open and honest you are with them, the better they'll conduct themselves online.
Fatherhood is full of challenges, and monitoring your kids' Internet activity has become a big one. But follow these useful hints and you'll have an easy time keeping online usage in your house under control.