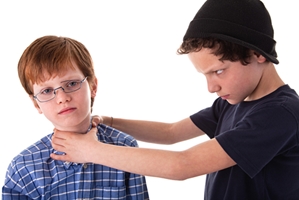 It's likely that during the course of fatherhood, you'll run into instances where your child is being bullied by someone at school. But there's also the possibility that the tables could be turned and it's your child doing the bullying.
It can be difficult to accept that your child has a problem, but it's the first step toward helping him fix the way he acts.
Give an apology
Your child has to understand that what she;s doing is wrong, and she needs to apologize to the kid who was bullied. It's a great method to teach her responsibility and accountability for her actions.
Figure out why
According to Ben Leichtling, Ph.D., when a child lashes out physically, it often means he's seeking attention or acknowledgement. Sit down with him and find the root of the problem, then determine new ways to help your child cope with whatever problems he's having.
Teach by example
One of the best parts of being a dad is watching your child adopt different parts of your mannerisms as he grows older. But sometimes your kid can also pick up bad habits and behavior from you. Take some time to self-examine and make sure that you're being a positive role model for your child.