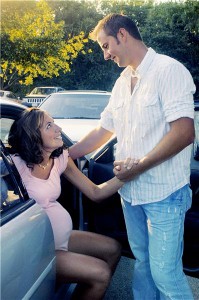 With your first baby on the way, you and your wife will be entering previously uncharted territory in your marriage – pre-parenthood. As a soon-to-be father, you've gotten a decidedly easier deal than your pregnant wife. With hormonal swings, physical changes, weird cravings and the pains of childbirth, your wife will need all the support she can get from you during this chaotic time. While some things might not always make sense to your un-pregnant mind, be ready for these unusual requests from your better half.
Midnight food runs
While midnight cravings for pickles and ice cream may seem like a classic sitcom moment, these sorts of weird food combinations are all too real to a pregnant woman. During the later part of her pregnancy (morning sickness subsides after about 12 weeks), expect some strange dietary habits from your wife. For example: if she always disliked peanut butter and jelly sandwiches, you may find her going through an entire plate of these sandwiches one afternoon. Even stranger, these cravings can strike at any time of the day.
Mood changes
One minute, pregnancy may be the happiest moment in your wife's life. The next, she could be cursing your name for even suggesting that you "watch the news for a few minutes." Hormonal changes can send any pregnant woman on an emotional rollercoaster ride, so be prepared for some serious mood shifts in the coming weeks. Your best course of action? Be patient and supportive no matter what.
Motherly crises
As an up-and-coming dad, you've probably harbored some doubts and fears about your abilities as a future parent. Chances are your wife is experiencing these anxieties multiplied by about a hundred times. Along with body image issues, it's not uncommon for women to worry about every possible thing going wrong during their pregnancy. As a result, you should stay as informed and involved with what's going on with your wife's body as you can to help alleviate her fears and show your unwavering support.